Meet Our Doctors
Dr. Pejman Ghorbani
Dr. Pejman Ghorbani is one of three siblings. He spent his childhood in Texas, Missouri and Maryland. He studied biology at the University of Maryland, College Park with emphasis on Neurophysiology and distinguished himself by his shared publication: Amplification of Asymmetric Induction in Sequential Reactions of Bis-diazoacetates Catalyzed by Chiral Dirhodium(II) Carboxamidates. After graduating with his Bachelors of Science, Dr. Ghorbani went on to study Dentistry at NOVA Southeastern University College of Dental Medicine, in Fort Lauderdale, Florida, where he was awarded for clinical excellence in the College of Dental Medicine, Department of Endodontics.
Dr. Ghorbani is committed to being in the know and keeping up with new and advanced dental technology in order to provide his patients with the best dental care possible. Accordingly, just in the past 2 years, Dr. Ghorbani has attended over 80 credit hours in continuing education including Implants in Paradise, where he donated his time to dental surgeries for families in need in the Dominican Republic.
Dr. Ghorbani is also proud of his work within the community. While he was in Florida, he volunteered at Caridad Dental Clinic, where he provided pediatric dental care to children in under-served communities. Also, he volunteered at the Medical HIV Center in New York.
An enthusiastic and active fan of sports, Dr. Ghorbani enjoys spending his free time at the gym, biking, hiking, and running. He also enjoys spending time with friends and family.
---
Dr. Ahmadreza Arash Rajaei
Dr Rajaei practiced general dentistry for several years in Vancouver, Canada and Dubai prior to moving to Boston to specialize in Orthodontics and Dentofacial Orthopedics. He earned a Master of Science in Dentistry (MSD) degree for his masters thesis on the stability of the temporomandibular joint (TMJ) following total joint replacement.
Dr. Rajaei employs the latest orthodontic techniques and treatments for adolescent and adult patients, including Invisalign, ceramic and lingual bracket systems that can help to reduce treatment time and increase patient comfort. He also has a special interest in treating cases with complex orthognathic surgical demands as well as patients exhibiting sleep disordered breathing (SDB) and temporomandibular disorders (TMD).
Dr. Rajaei provides personalized care with the utmost attention to detail in order to achieve the best functional and aesthetic results for his patients. He is a member of the Northeast Orthodontic Society and the American Association of Orthodontists.
---
Fadi Hasan, DDS, MSD
Dr. Hasan received his D.D.S. from University of Colorado, School of Dental Medicine in 2011, and his Certificate in Periodontics, M.S.D. from the Graduate Periodontics Program at the Virginia Commonwealth University School of Dentistry in 2015.
Dr. Hasan has not only provided his services as a Dentist in Amman, Jordan but also in Martinsville, VA. He also has experience as a Periodontal and Implant Surgical Specialist. In addition to being licensed in Virginia, D.C., Maryland and Tennessee, Dr. Hasan is also I.V. sedation certified.
He was also part of a research that was published in October 2015 in Journal of Visual Experiments titled Characterization Leukocyte-Platelet Rich Fibrin, A Novel Biomaterial. He has also actively participated in community services such as Mission of Mercy Dental Services, Buena Vista Correctional complex and Dental Mission to Vietnam and Cambodia. He is also an active member of various organizations like American Academy of Periodontology, American Dental Association, Southern Academy of Periodontics and Maryland Dental Association.
Dr. Hasan is also fluent in Arabic and English.
---
Dr. Rima Kanbaragha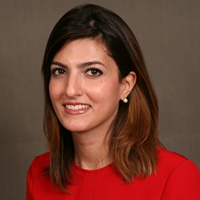 Dr. Kanbaragha obtained her dental degree (DDS) from the Faculty of Dentistry at the University of Jordan in 2010. After working a short time in Jordan, she moved to the United States and pursued an advanced degree (AEGD) in general dentistry from the Florida Institute for Advanced Dental Education in Miami, Florida. Upon completion of her degree in 2015, she has practiced general dentistry in the Washington DC area.
Dr. Kanbaragha speaks English and Arabic. Her awareness of these different languages makes her accessible to patients from a variety of cultural backgrounds. She believes in carefully listening to each patient and creating a partnership to maintain and improve lifelong health – effective listening uncovers patients' real needs, which ultimately translates to better treatment and happier patients.
Dr. Kanbaragha lives in Mclean, Virginia with her husband and two children. They all enjoy travelling, swimming, and numerous other outdoor activities.
---
Dr. Mahsa Shahidi
Dr. Shahidi is a graduate of George Mason University where she received her B.S. degree in Biology. She completed her studies in dentistry and earned her DDS degree at Howard University in Washington, D.C.  Upon graduation from dental school, Dr. Shahidi completed General Practice Residency at Brookdale University Hospital Medical Center in Brooklyn, NY.
During residency, she received extensive training on various procedures in dentistry such as root canal therapy, advanced prosthodontics, pediatric dentistry and dental trauma.  Dr. Shahidi is a member of DC Dental Association, American Association of Endodontics, New York State Dental Association, and American Dental Association. In her spare time, she enjoys the outdoors, Pilates and traveling. Her favorite sport is soccer.